The West Village is a breeding ground for delicious restaurants. From upscale establishments to hole in the wall burger joints, this part of town is rife with delicious offerings. Chock full of beautiful townhouses and hip boutiques, it is naturally a neighborhood where beautiful people love to brunch.
It is also a neighborhood where sweaty, tired people decide to take a load off of their aching feet and have a beer at 2 pm and call it brunch.
Which one do you think I am?
Agave is a bustling, upscale Mexican restaurant right in the heart of the West Village. It has a small, sun drenched atrium, a spacious bar area with a few tall tables, and a large back room where festive music plays on the stereo. It is a great spot for brunch with friends or a happy hour drink. The feel of the restaurant is casual, but the staff at the hostess stand may think that they are working at Joel Robuchon. If you are dressed in schmuppy workout clothes, be prepared to be given the fish eye at first.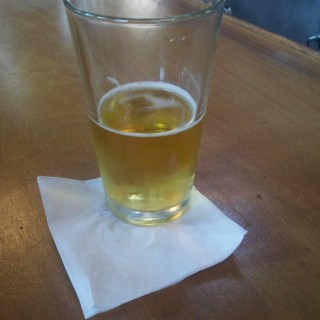 Chelsea Blonde Beer
The beer for beer haters. Light, citrusy, and not too hoppy, this is like an even less alcoholic version of a Corona. It is refreshing and sweet/tart, the perfect complement to greasy, spicy Mexican food.
Which is, of course, the best food on the planet.
Guacamole with Salsa Verde, Pico de Gallo, and Fresh Tortilla Chips
 A classic at any Mexican restaurant. This is not an innovative version, nor the best, but it is satisfying and sizable. This version is chunky, with slivers of zesty jalapeno, the  zip of lime, and enough salt to bring out the naturally sweet flavor of the avocado. It rests in a light, puffy tostada shell and is served with fresh chips that are a tad too salty. They are clearly fried to order, and I would order them without salt in the future. The pico de gallo is fine, but the salsa verde is the real winner – sour, spicy, and smooth.
Chipotle Chicken  Quesadilla
This quesadilla is enough for a meal for one person or a shared appetizer for 4. Mild jack cheese melts around grilled chicken, smoky, charred, and spicy with chipotles. Sandwiched between 2 crisp tortillas, the fresh pico de gallo, guacamole, and creamy sour cream complete this upscale take on a classic American Mexican favorite. Like the guacamole, it is nothing innovative, but it is utterly satisfying and comforting. 
Agave is not ground breaking, but it offers great prices on high quality Mexican food. The extensive drink selection alone is reason enough to come back for dinner, and the portions are commensurate with the prices. This food balances the greasiness that comes with fried, cheesy food with fresh ingredients and well cooked food that is not overly heavy or salty. It has some high end entrees as well as classic American Mexican dishes. If you can get past the slight snootiness at the hostess stand, you will be rewarded with great service and delicious food.
Of course, I might have looked down my nose at someone who dressed like I did that day, too.