I'm never going to be a master baker, okay?
The Coupe du Monde de la Patisserie will have to proceed without me next year.
But the problem is…I LOVE homemade bread. Just like Cher, I love to smell something baking in the house.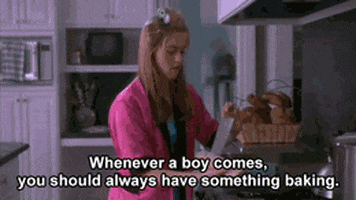 And this Rosh Hoshannah, I was determined to make it happen for my family.
In about an hour. With almost no ingredients in the house.
Lo and Behold…
Candied Apple Crescent Roll Challah
Ingredients:
1 tube crescent rolls
1/2 apple, diced into tiny pieces and mixed with a hefty hand of pumpkin pie spices and sugar.
1. Take that crescent roll dough out of the package and smooth it into one thin rectangle. you want it as thin as possible – thinner than I made it – without the dough ripping. 
2. Add the apples in a thin line all the way down the middle of the dough. You want a thin line so it doesn't burst open too much as it bakes. Also be sure to extend it pretty far to the end of the dough, leaving just 1/4 of an inch or so naked without apples.
3. Pinch the dough tightly around the apples to make a dumpling-like seam. Be sure to really push those edges together – they will burst apart as they cook  anyway, so take as much precaution as possible.

4. Now coil that dough into a cute little snail.

5. Bake for about 30 minutes, then cover with foil and cook for about 7 minutes more to prevent over browning.

6. When the round is golden brown, serve immediately or wait and serve room temperature.
This isn't real challah – that wonderful, airy, eggy, brioche-like bread – but it's a damn good substitute. It's buttery and dense with a thin ribbon of soft, sugary apples. It's delicious with butter or dunked into tsimis.
And it's the sweetest possible to begin the new year.