Okay Americans, it's time to swallow our pride.
I mean, look…I love being American, really I do.
But we do NOT have the greatest selection of candy.
At it's best, it satisfies the need for something sugary.
At its worst, it's subpar, weird and all tastes the same.
What country has the best candy? Not the best high-end heritage single origin chocolate bonbons, but the best buy it in a drugstore, "2 bags for the price of 1″ candy?
That would be the UK.
This isn't my opinion. This is fact.
Read on for the best candy in the world. All thanks to Her Royal Highness's kick ass sugar-addicted dominion.
Mallomars, get the hell out of town. These are the BEST MARSHMALLOW COOKIES ON THE PLANET EARTH. Buttery, crumbly, graham cracker. Crackly, creamy milk chocolate. And, in between, a pile of sticky, sugary, soft marshmallow fluff. Not a thin, bouncy layer. But a full, cloudy, finger smudging pillow of marshmallow fluff. I dare you to eat fewer or more than two. Fewer and you will be left wanting, and more and you will immediately vomit from sugar intake.
2. Wine Gums
So many millions of times more delicious than gummy bears. These round or oblong pastilles are firm with an almost waxy texture. As you suck on them, they start to dissolve and suddenly become chewy and burst with flavor. The flavor is really where they come through. Zesty lime, tart blackcurrant, and sweet orange are my favorite flavors. I can go through a whole box of  these at once – Maynards is a personal favorite. And fyi – no nasty black licorice will ever pass through my mouth. Blech.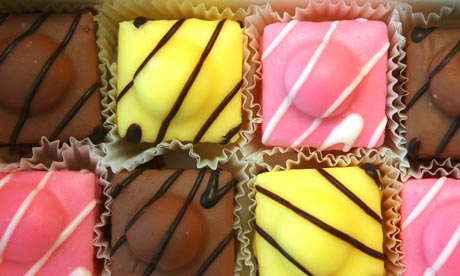 Okay, this isn't really what they are called, but who cares what kinds of treats you get from this line? Petit fours, Battenberg cakes – they are all aweome. It's all about the moist, light cake inside, the smooth buttercream in the middle, and the thick layer of fondant-y icing. I am one of those people who loves the taste of fondant – the thick, uber sugary, teeth achingly sweet stuff that most people hate on their wedding cakes. The idea of selling bite-sized, shelf stable cakes as candy is such a great idea. It's so satisfying with coffee or in the morning or alone as you built watch the Real Housewives…you know,whatevs.
Oh Flake…the very first British candy bar that I ever enjoyed. Layer upon layer of milk chocolate so creamy and thin that it melts before you have a chance to chew it. It does flake all over the places, so be prepared to be scrape chocolateycrumbs off of your shirt all day. It's best when served straight up in an ice cream cone or mixed into a McFlurry.
Shut up, foreign McDonald's is an awesome thing.
5. Reese's Cups
Just to make sure that you are really paying attention. Because, yes, we do have one candy that matches that of the superior British Empire. And it's our very own creamy, nutty, sweet Reese's cups.
Eaten 2 at a time of course.